Union Representation
Buena Vista, Calhoun, Cherokee, Clay, Dickinson, Emmett, Ida, Lyon, O'Brien, Osceola, Palo Alto, Plymouth, Pocahontas, Sac, Sioux, Woodbury.
Boone, Butler, Cerro Gordo, Floyd, Franklin, Hamilton, Hancock, Hardin, Humboldt, Kossuth, marshall, Mitchell, Story, Webster, Winnebago, Worth, Wright.
Allamakee, Benton, Black Hawk, Bremer, Buchanan, Chickasaw, Clayton, Delaware, Dubuque, Fayette, Grundy, Howard, Jackson, Jones, Linn, Tama, Winneshiek
Audubon, Carroll, Cass, Crawford, Fremont, Greene, Harrison, Mills, Monona, Montgomery, Page, Pattawatamie, Ringold.
Adair, Adams, Appanoose, Clarke, Dallas, Decatur, Guthrie, Jasper, Lucas, Madison, Marion, Monroe, Polk, Taylor, Union, Warren, Wayne.
Cedar, Clinton, Davis, Des Moines, Henry, Iowa, Jefferson, Johnson, Keokuk, Lee, Louisa, Mahaska, Muscatine, Poweshiek, Scott, Van Buren, Wapello, Washington.
If you have the need for a union steward, below is the map that outlines the areas the Area Reps are responsible for.
You will need to contact the Area Rep for your Area.
You may also contact the state President or Craft Directors, but you should start with your Area Rep.
For Pictures of the state officers and Area Reps, go to the "Officers & Staff" page.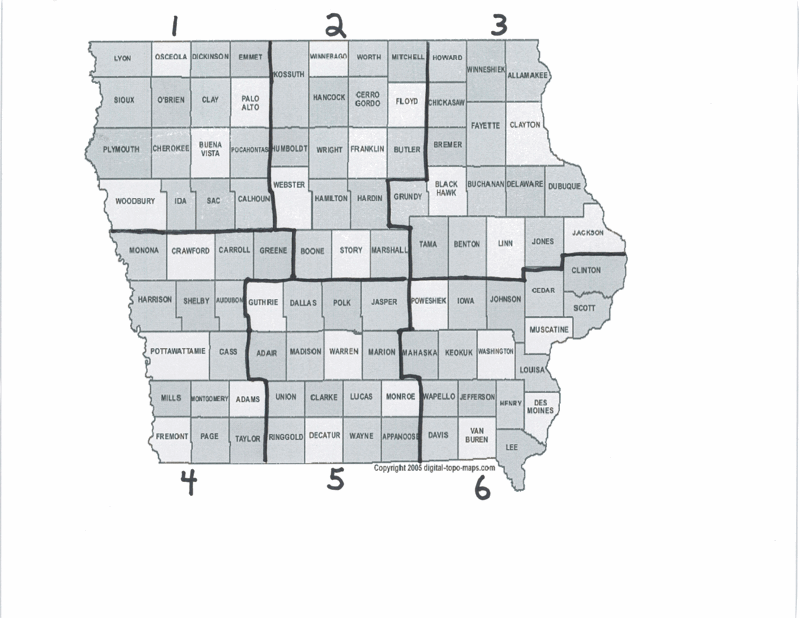 Page Last Updated: May 03, 2017 (08:08:52)