| | | |
| --- | --- | --- |
| | | |
| | | |
| | | |
USPS SAFETY AMBASSADOR PROGRAM - A WOLF IN SHEEPS CLOTHING For those of you who have been working for the USPS since 1993 you may recall the USPS agreeing with all of the postal unions except the APWU, to implement the Employee Involvement/Quality of Work Life (EI/QWL). Read More...
Anyone forced to participate in the Safety Ambassador program needs to notify the union ASAP. A National Grievance is being initiated to stop this mandate and protect individual choice in the work place. Email you name and office to kimberly4apwu@gmail. Read More...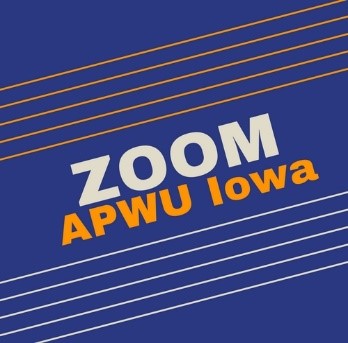 MEMBERS AT LARGE-ZOOM is an electronic meeting platform the Iowa Postal Workers Union has chosen to provide an affordable means of conducting regular meetings with members across the state. Participants can join the meeting using a phone or computer from anywhere. Meetings are scheduled on the last Sunday of every month at 4PM, suggested monthly topics are listed below and are subject to change. Invitations with connection instructions will be sent to those that pre-register at iowaapwuprez.com or texting contact info to 515-808-0804.
June- FMLA Basics
July- Security-knowing how to protect yourself
Flexible Workforce Lowers USPS Wages -- and Hurts Productivity The U.S. Postal Service's shift to a more flexible workforce has reduced average hourly pay, but adding so many new employees has also hindered productivity gains. At last report, the "straight-time" pay of postal employees was averaging $25.63 per hour in FY2013, down 1.4% from $25.98 a year earlier. Read More...
NALC opposes Issa bill H.R. 3801— yet another attack on the Postal Service [NATIONAL ASSOCIATION OF LETTER CARRIERS LOGO] Jan. 8, 2014—Rep. Read More...
House Members Seek Moratorium On USPS Plans to Close Post Offices APWU Web News Article 005-2012, Feb. 14, 2012 More than 100 members of the House of Representatives have signed a letter to Postmaster General Patrick R. Read More...
President Obama unveiled his federal budget proposal for the 2013 fiscal year on Monday. Here is an agency-by-agency breakdown of the plan. This post will be updated as information becomes available. Read More...
White House FY 2013 Budget Proposes Temporary Relief and Cuts Earlier today, President Barack Obama released his fiscal year 2013 budget proposal. The voluminous document, which is prepared by the White House Office of Management and Budget, lays out a framework for the Administration's legislative and fiscal priorities. Read More...
Washington, DC (Feb. 13, 2010)—In light of first quarter financial reports that the U.S. Postal Service would have generated $200 million in profits had it not been required to pre-fund its future retiree health benefits, Senator Bernie Sanders and Rep. Elijah E. Read More...
Obama's budget proposes $25bn rescue package for USPS Monday, February 13th, 2012 For the second year running, US President Barrack Obama has sent a federal budget to Congress offering a multi-billion dollar assistance package for the US Postal Service. Read More...
Obama's FY2013 budget calls for eliminating a day of delivery starting in January Feb. 13, 2012 -- President Barack Obama today released his budget for Fiscal Year 2013. Of specific concern is the call for giving the USPS the authority to reduce mail delivery service from six days a week to five as early as January 2013. Read More...
Obama Proposes Postage Increase, End to Saturday Delivery President Obama proposed today a special increase in postage rates and an end to Saturday delivery as part of a plan to right the U.S. Postal Service's finances. Read More...
Government employees – whether federal, state, local or military – have dedicated their lives to making our country better through their loyal service. One of the ways that businesses reward retired government employees for their service is through special discounts. Read More...
Yesterday, Rep. Waters introduced H.R. 3916, the Protecting Post Offices Act, which would reduce the operating costs of the US Postal Service to provide continued service in urban and rural communities and save 28,000 American jobs. She is joined by American Postal Workers Union, AFL-CIO in support of this much needed legislation to stabilize the US Postal Service. Read More...
WASHINGTON, Feb. 9, 2012 – Despite the headline on its press release, the U.S. Postal Service announced today a net operating profit of $200 million delivering the mail in the first quarter of FY 2012 – an impressive achievement given the current economy. (Postal Service Chief Financial Officer Joe Corbett announced this profit on a conference call with reporters today. Read More...
Remember that U.S. Postal Service list of about 3,650 post offices under study for closure? The number is now closer to 3,270. The reason: Since the original roster was released last July, 380 facilities have quietly been given a reprieve. In many cases, USPS officials decided that closing wasn't feasible because there was no other post office within an acceptable distance. Read More...
House Panel Approves Bill To Cut Postal, Federal Pensions APWU News Bulletin 05-2012, Feb. 9, 2012 | PDF "This bill is an outrageous attack on postal and federal employees. Read More...
The plan for the post office Republicans want to privatize the Post Office, can they be stopped? Senator Bernie Sanders (I-VT) has come up with a plan to put the Post Office on the road to recovery. He joins Ed Schultz to discuss the details. http://www.msnbc.msn. Read More...
As expected, Sen. Tom Carper, D-Del., has formally asked Postal Regulatory Commission Chairman Ruth Goldway to explain all official travel since she assumed the position 2-1/2 years ago. Read More...
Organize Today!

Looking for more information on Organizing your workplace?
Click Here
Iowa Postal Workers Union - AFL-CIO

Iowa Postal Workers Union, APWU,
AFL-CIO
Be Union - Buy Union
The Iowa Postal Workers Union is a part of the American Postal Workers Union (APWU) AFL-CIO.
The Iowa Postal Workers Union (IPWU) affirms its belief in a single union of all Postal Workers in non-supervisory levels and will work to achieve this goal.
The IPWU educates our membership through use of seminars and specials class as well as through media outlets such as the Postal Solidarity (The Iowa Postal Worker paper is a part of this joint effort.)
The IPWU works towards educating the general public on the history of the Labor Movement.
The IPWU will work for the election of candidates - regardless of party - who favor pasage of improved legislation in the interest of all labor. To work for the repeal of laws which are unjust to labor and Postal workers, such as the denial of the right to strike and denial of the right to support political cadidates of their choice.
The IPWU will represent all members in every way possible with issues dealing with, but not limited to grievances.
The IPWU will continue to organize the unorganized.
Early to bed, Early to Rise,
Work like Hell and Organize!